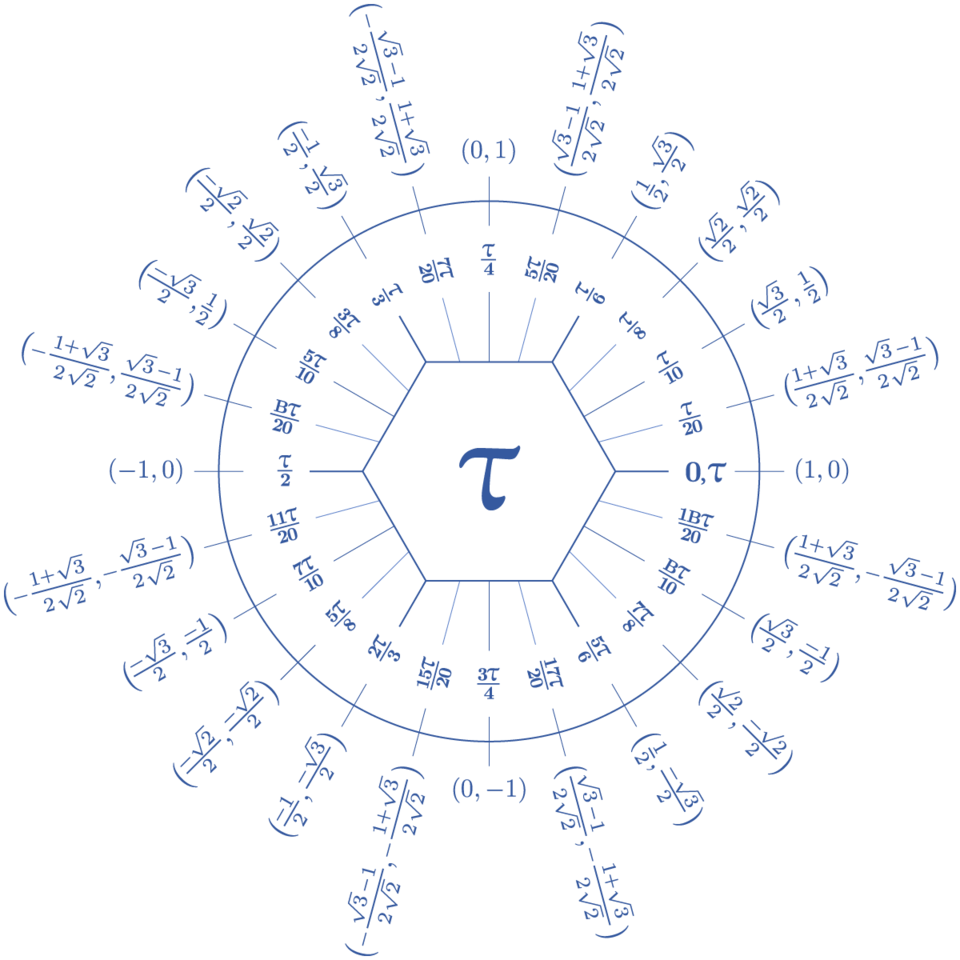 This is a unit circle diagram using both dozenal notation (as with elsewhere on this site, using "A" and "B" for ten and eleven) and the newly proposed circle constant τ (tau), which is equal to 2π. The advantages of τ over π are numerous and obvious—instead of a full circle of arc being two of anything, it is just one τ. Put another way, τ is simply the number of radians in a circle.
By combining τ with dozenal notation, and dividing the circle into 20; (dec. 24.) equal angles (being the lowest common denominator of 8 and 10; (12.), covering all 45. and 30. degree angles), we see the clear advantages of both systems. Compare to a conventional trigonometric unit circle using decimal notation and π, which—though it may be apprehended with the comfort of established convention—is not really a particularly meaningful way of describing a circle.
For more information on tau as a circle constant, and compelling arguments for its adoption, please consult the following fascinating articles:
I spent a disturbing amount of time making this image, and it represents the last time I will attempt to lay out mathematical expressions in Illustrator. However, in all probability this is the first unit circle diagram ever created in the history of mankind using both the tau circle constant (by any name) and dozenal notation. It is my contribution to the future of trigonometry. As with all mathematical diagrams on this site, please feel free to disseminate widely, but of course some credit and a link back to this site would be greatly appreciated—though not required.
[EDIT 2012-09-30: This diagram has now been made into a WATCH by a MAJOR WATCH COMPANY: http://cadencewatch.com/tau-watch. I am in possession of one of these watches. It seems fairly sturdy. Though I'm not really a watch person.]