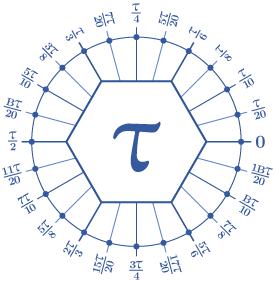 An astute reader recently brought to my attention the nascent movement afoot to replace π in common usage with the number now unfortunately known as 2π—viz., 6;349419 (dec. 6.283186):
(For a reasonably convincing argument on why the letter τ (tau) in particular should be adopted for this value, please read Mr. Hartl's manifesto.)
The fundamental point here is that, in trigonometry and all other manner of angle-measuring endeavors, what we care about is the radius of a circle, not its diameter. The one follows from the other to be sure, but at the end of the day the diameter is more usefully considered twice the radius than the radius is half the diameter. A circle is a circumference around a center—it is the measure of this distance between center and circumference that is elemental to the idea of a circle, not the rather incidental fact that its full width is twice that same distance.
To be sure, although 2π features prominently in all areas of mathematics dealing with angles and arc, regular π comes up a lot too. But dealing with τ in these situations would never be more of an issue than simply dividing τ by two or what have you. Again, the important point is that τ should properly be considered the more fundamental value, so even in cases were π leads to less verbose or more eloquent expressions, it would still perhaps be more informative and pertinent to use τ. Though perhaps not in all cases, I don't know. At any rate, there is no need for π to be "abolished" or anything, in the way that, say adopting dozenal notation would probably require the death—in practical usage—of the decimal radix. Both values can go on to have long and fulfilling lives. τ can be propagated in common usage by simply defining it and using it whenever π is required—there is no need for any sort of radical, society-wide transformation. Indeed, I can easily envision a situation where τ (or some other symbol, if τ ends up being impractical) slowly overtakes π as a the preeminent circle constant over the course of decades if not centuries.
The argument was presented so well by Mr. Palais and so exhaustively by Mr. Hartl that there scarcely much more for me to add on the matter—except perhaps to note that, of course, the prominence of six in the value of τ definitely highlights the hexagonal nature of the circle. Every time one considers the value of τ one is reminded that the circle differs from the hexagon by only 0;3494 radians of perimeter. Which is, in this blog's opinion, a worthwhile thing to remember.
Anyway, it is my intention going forward to use τ instead of π in all applicable formulae, expressions, equations, and what have you throughout this site. I'm not sure how well I'll stick to that plan, but this certainly seems like an easier transition to make than the whole dozenal enterprise would be. One can always simply define τ on the fly for those who are unfamiliar with it, while it is very difficult to just go right out and use dozenal notation without at least explaining yourself first. But I consider both of these efforts to be part of the same grand movement to bring clarity and hexagonal sensibilities to modern mathematical semantics.
I am not yet sure what the ramifications of this development will be for Dozenal Pi Day (March 18;), since there is conspicuously no 34th day in June—in decimal or dozenal. Mr. Hartl apparently celebrates decimal "Tau Day" on June 28th (a perfect day in decimal), but my own preference would be to have a "universal" Tau Day on February 27., being 365./τ, though that is probably a bit too cerebral for most people, and it sacrifices the dozenal element. At any rate, I shall move forward with plans to celebrate Dozenal Pi Day in 11B7;—it is still τ/2 after all—and if nothing else I can use it as an opportunity to denounce both decimalism and π.